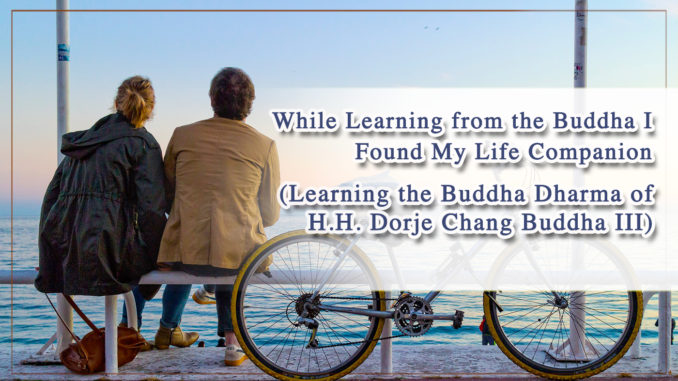 During my childhood, I always heard my elder-generation relatives saying, "We had better not to marry our daughters out. Otherwise, they may have a bad fate."
I was always puzzled by their saying so. As I grew up in life, I saw the way of life between husband and wife among my elder-generation relatives. Their life is busy at home and busy with their children every day. After getting married, the husband and wife lack common interests and their relationship gradually turns into a relation like two parallel lines within the family. All day long they turn around and are occupied by the necessities of daily life. I gradually understood why the elder relatives would say so. Upon stepping into society, I cautiously remembered the advices from my elder relatives and even feared leading such a life.
I first met my companion during a social occasion. We did not immediately establish a contact after that. Sometime later, we connected again. I was just in a period of feeling lost in my life, having worked in society for two to three years. Because of lack of care to myself, warning signs appeared in my health. Seeing my classmates at school stepping into family life, I admire them very much. However, I also recalled the words spoken by my elder relatives about caution against a bad fate through marriage. I retreated again.
One day, an elder relative told me that everything is due to causality. Our getting ill is also due to causality. My mind was shaken by the words. It seemed that I found the answers to the puzzle I had toward my own life and to the warning signs in my health. While thinking of how to solve these issues, I went to the gate of a famous temple and stayed there for about five minutes. During this brief period of time, I recalled my experience from childhood when I was led by my elder relatives to come and chant sutras. I was told that if I follow the crowd to pay homage, I will be blessed. That experience did not leave me with a good impression. I did not feel that doing so could solve my issues of causality. So, I turned around and left.
Six months later, I met my companion again. That day, he invited me to go to the Buddha hall to respectfully listen to the recorded Dharma discourses expounded by H.H. Dorje Chang Buddha III. The Dharma discourse we listened to is "Do You Clearly Believe in the Law of Cause and Effect?"  What I heard was like a round of loud thunder. I finally found the answer. Everything I have today is due to the causes I planted in the past. Although I did not have a complete understanding yet, I no longer had fear and felt lost. I also gradually knew what I should do through respectfully reading "What Is Cultivation?" expounded by H.H. Dorje Chang Buddha III. The following passages from this Dharma expounded by His Holiness the Buddha caused me to benefit deeply, "Cultivation is cultivating the increase of good karma and cultivating the avoidance of bad karma. It is increasing good karmic conditions, planting good causes, and reaping good effects. It is avoiding the increase of bad karmic conditions, not planting bad causes, and avoiding the reaping of bad effects." "The Law of Cause and Effect does not err. It cannot be eliminated. To say that it can is to take a nihilistic point of view. Hence, we can only build a wall of good karma, which is like building a retaining wall. This wall of good karma has the effect of blocking us from our evil karma. Thus, only through learning from the Buddha, cultivating the conduct of the Buddha, and ultimately becoming a Buddha can we thoroughly liberate ourselves from the karma (cause and effect) that binds us to the cycles of reincarnations. "
In 2014 we decided to get married and have our honeymoon in the United States to attend Buddhist events. We became husband and wife under such karmic conditions. Because we are respectfully listening to the recorded Dharma discourses expounded by H.H. Dorje Chang Buddha III together, we have the same idea on many things and mutually have a lot of accommodations and understandings. Such an outcome completely broke the prophecy of having a bad fate from a marriage that I heard in my childhood.
I am grateful to the compassionate blessing from H.H. Dorje Chang Buddha III. That enabled me to find my life companion. On the other hand, my companion caused me to establish my karmic connection with the true Dharma of Tathagatas.
I am grateful to H.H. Dorje Chang Buddha III!
Buddhist Disciple:  Duanfama, in prostration
I prostrate to  Namo H.H. Dorje Chang Buddha III!
Namo H.H. Dorje Chang Buddha III!
Namo H.H. Dorje Chang Buddha III!
While Learning from the Buddha I Found My Life Companion (Learning the Buddha Dharma of H.H. Dorje Chang Buddha III)
Link: https://dharmafromhhdorjechangbuddhaiii.wordpress.com/2019/09/10/learning-the-buddha-dharma-of-h-h-dorje-chang-buddha-iii/
#HHDorjeChangBuddhaIII #DorjeChangBuddhaIII #DorjeChangBuddha  #MasterWanKoYee #MasterYiYunGao 
Auto Amazon Links: No products found.